Dienstag, 16. November 2010 um 21:04 - futziwolf



V/A (KRIS NEEDS PRESENTS) - dirty water - birth of punk attitude

2LP/CD/book -
(
year zero/futurenoisemusic
) VÖ: 29.11.2010
label:
YEAR ZERO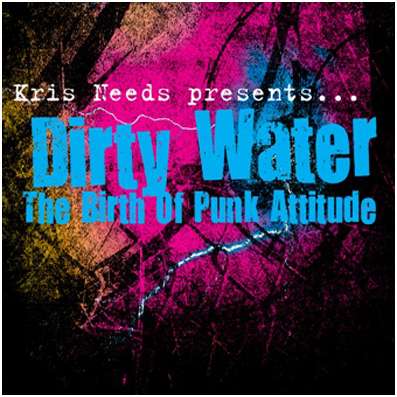 [review:]
Machen wir's kurz: Die Idee und Ausführung einer Compilation über PräPunk-Einflüsse mit auch zum Teil eher unbekanten Bands aber auch Helden wie
MC5, SUN RA, NEW YORK DOLLS
und
CAN
ist mit den Ausführungen als Doppel CD mit 70-seitigem Buch oder als Doppelvinyl sehr gelungen. Nicht nur für Musikhistoriker ein Muss. Zwei Songs mussich persönlich allerdings als Lückenfüller der nervigen und überflüssigen Sorte erwähnen:
T.REX
mit einer endlos langen und langweiligen Hippiegetrommel Liveversion von
Elemental child
, bei welchem mir beim besten Willen kein prägender Einfluss auf Punk einfällt. Da hatten T.REX wirklich besseres zu bieten. Und dann von den
STOOGES
die so ziemlich schlechteste Liveversion von
Do You Want My Love?
. Dafür sind alle anderen Stücke only Killer.
-
futziwolf

presse:

>>>
Der ehemalige Zigzag Fanzine Redakteur Kris Needs umgeht das Vorhersehbare und dokumentierte hier eher unbekanntere Einflüsse auf die Szene und Entwicklung von 32 Songs aus 3 Dekaden der Musikgeschichte, die Einfluss auf die Musik und den Lifestyle der Punkszene hatte. Die Songs reichen von 50er Rock'n'Roll, zu 70er Reggae, 60er Garage Rock und die Songs der Spät-60er und Früh-60er Gegenkultur. Die 2-CD erscheint mit einem 70-seitigen Buch, in dem er die Entwicklung in Wort und Bild dokumentiert. Mit Seeds, Deviants, MC5, T.Rex, Flamin´Groovies, Mott the Hoople, Monks, Stooges, Zolar X, New York Dolls, LAst Poets, Silver Apples, Can, Saints, Red Krayola, Death, The Up, Gene Vincent, Culture, Dictators, Peter Hammill, Third World War, Sensational Alex Harvey Band, Dr. Feelgood, Suicide, Silhouettes, Sun Ra u.v.a. <<<
flight13.com
contact:
adrian@futurenoisemusic.com
video:
und da man auf
futurenoisemusic
auch einiges über
X-RAY-SPEX
findet, gibt es dort auch den Hinweis auf die Aktivitäten der X-RAY SPEX Sängerin
POLY STIRENE
und folgendes Video, das wir euch nicht vorenthalten wollen:
Poly Styrene - Black Christmas


labelinfo:

There have been many punk collections over the years and former Zigzag fanzine editor Kris Needs possesses most of them so, when it came to compiling his own, he decided to avoid the predictable, except where totally warranted. Although featuring names without whom such a compilation should never be without, the set also highlights less likely candidates through their influence, attitude or sheer courage in the face of adversity; mavericks and rebels shooting for the stars and going against the grain.
Every track on Dirty Water: The Birth Of Punk Attitude is there for a reason, whether it's a band which Kris has known, worked with or believed in, or just thinking some hair-bristling track deserves to be heard again or highlighted.
After starting with two quintessential garage-punk bands, the Standells [whose 'Dirty Water' provides the snotty title track] and Seeds [covered by Needs' own long-forgotten band 35 years ago], the album approaches the punk spirit as a way of making music or conveying a message by any means necessary, which makes Harlem's Last Poets prime candidates for laying a hiphop template in 1970 with their first album. Around the same time, downtown in Washington Square Park, David Peel and the Lower East Side were delivering stoner street anthems which could only be captured by a live recording. Kris's lifelong New York obsession continues with the untouchable New York Dolls, senses-shattering electronic punks Suicide, plus two of their influences in Silver Apples and vocal group the Silhouettes, displaying doowop's DIY spirit on 'Get A Job'. The Dictators show how their degenerate raunch influenced the Ramones. The Deviants were at the forefront of UK's 1967 counter-cultural revolution, like the UK's answer to America's Fugs, MC5 or Mothers Of invention when it came to forging a new society and playing free concerts, before handing the baton to the Pink Fairies. 1970s UK proto-punk is represented by Jook, Third World War and the Sensational Alex Harvey Band's sinister, cinematic missives, while rarest tune [on CD for first time] is the Hollywood Brats' storming treatment of the Kinks' 'I Need You'.
Oldest track has to be 'Blue Jean Bop' by Gene Vincent, the original black leather man. As the restless punk spirit is usually associated with teenage years, Kris found himself reaching back into his own adolescence, reawakening long forgotten emotions, although the buzz never left; hence the inclusions of Mott The Hoople [first band to welcome him on board while they carved their trail of mayhem and some of the best rock 'n' roll ever committed to vinyl], Dr Feelgood [who named another fanzine with their 'Roxette', while cutting though prog's excesses like a demented flamethrower], emotional whirlwind Peter Hammill in his punked-up Rikki Nadir incarnation, Germany's inestimably-influential Can, T. Rex when Bolan went electric and Detroit's incendiary MC5, who led to another fixation, with the Motor City, also represented here by The Stooges [scorching 12-minute tear-up with the short-lived twin guitar lineup captured live in 1971], other MC5 sister band Up and brilliant but overlooked black punk trio Death, providing one of the highlights with their searing 'Politicians In My Eyes'. Sun Ra was a profound influence on the MC5 and stayed with Up when in town but he's here for his star-sailing individuality and DIY spirit of his indie-pioneering Saturn label. The album also casts its net around the rest of America with seminal Midwest outfits Red Krayola and Rocket From The Tombs, San Francisco's fabulous Flamin' Groovies, unique L.A. aliens Zolar X and the Monks [American G.I.s stationed in Germany]. Dirty Water ends perfectly in 1977 with the timeless roots prophecy of Culture's 'Two Sevens Clash', highlighting reggae's towering presence in all this. The set will be accompanied by extensive liner notes from Needs.