Samstag, 20. August 2022 um 07:36 - futziwolf
mit PSAPP + Kieran Hebden & Steve Reid + SLEEPWALK, a Selection by OPTIMO
PSAPP : "THE CAMEL'S BACK" : CD/LP : (domino // indigo) : VÖ 24. october 2008
label/vertrieb:
http://www.dominorecordco.com/artists/psapp/
http://www.dominorecordco.com/uk/albums/31-07-08/the-camels-back/
http://www.indigo.de/
---
[review:]Was hier beim dritten Album von PSAPP zuerst wie eine Überdosis Süßes ankommt, hat beim zweite Hören manchmal sowohl in den Lyrics als auch in den Arrangements seine Tiefen, die so manche düstere Geschichte hinter dem bunten Bonbonpapier erahnen lässt. Trotzdem stehen natürlich auch bei "THE CAMEL'S BACK" die fröhlichen Sommerfrischen Songs im Vordergrund. Carim Claasmann und Galia Durant schrauben wie immer mit Zuhilfenahme ungewöhnlicher Instrumente locker luftige Popperlen zusammen, weniger schrammelig wie COCO ROSIE, beschwingter noch als bei YANN TIERSENS und immer mit spontaner Leichtigkeit vorgetragen. Die Kürze des Albums (ca 40 min.) lässt sich wunderbar mit den beiden ebenfalls exzellenten ersten Alben verlängern. Also schnell die ganze Palette PSAPP unter den Weihnachtsbaum gelegt. Gute Laune garantiert!
- großmutter futziwolf
---
presse:
>>> Juppie! Das Duo, das Songs irgendwo zwischen Wohnzimmer, Flur, Klo und Küche aufnimmt, ist zurück mit schönen Weisen und ungewöhnlicher Instrumentierung.
Carim Claasmann und Galia Durant aka Psapp stehen für intelligent gemachten Pop, fernab einer Anbiederung an den Mainstream. Diese - bewusst oder unbewusst zur Schau getragene - Antihaltung scheint jedoch mit dem Opener "I Want That" ein wenig verloren zu gehen. Denkt man zumindest. Denn außer vereinzelten Blubbern klingen Psapp hier relativ konventionell.
Das ändert sich im weiteren Verlauf, und so taucht auch der etwas rumpelige Charme des Duos wieder auf, der unweigerlich für exzellente Laune sorgt, obwohl das Liedgut nicht immer nach eitel Sonnenschein klingt und des Öfteren einen Schwenk in Richtung Moll hinlegt.
Die beiden präsentieren sich aber nicht als süße Schnuffels, die nur mit rosa Zuckerwatte um sich werfen, sondern lassen neben beschwingtem Songmaterial auch Raum für die kleine Träne im Knopfloch ("The Camel`s Back"). Zeit für allzu große Depressionen bleibt indes nicht, wenn ein Walzertakt den Hörer mit Streicher-Unterstützung samt einiger undefinierbarer Instrumente sanft hinweg wirbelt ("Part Like Waves").
Der gute alte 3/4-Takt. Wie Yann Tiersens Meisterwerk "Amélie", so profitieren auch Psapp von der fast magischen Anziehungskraft dieses ollen Tanzes. Die größte Nähe zum französischen Nonkonformisten offenbart aber das Instrumental "Marshrat", das zwar in puncto Wiederholung des Hauptthemas nicht die Monotonie eines Tiersen an den Tag legt, aber mit dessen Luftigkeit im Klang durchaus konkurriert und eine ähnliche Zweckgemeinschaft von Melancholie und Beschwingtheit aufweist.
"The Camel`s Back" hinterlässt über (leider nur) 40 Minuten einen erfrischend spontanen Eindruck. Claasmann und Durant zauseln uns warm klingende Songs ums Ohr, denen man sich gerne hingibt. Trööt! <<<
artist website:
http://www.psapp.net/
http://www.myspace.com/psapp
contact:
psapp@btconnect.com
PSAPP sind:
Galia Durant and Carim Clasmann.
discography:
Tiger, my Friend - 2005
The Only Thing I Ever Wanted - 2006
THE CAMEL'S BACK - 2008
mukke:
http://www.myspace.com/psapp
video:
Psapp — Hi
YouTube-Direktlink
Psapp - Tricycle
YouTube-Direktlink
Psapp : About Fun
YouTube-Direktlink
Psapp : Side Dish
YouTube-Direktlink
---
bio:
Psapp have been perfecting their art of highs and lows and all the fun in between for six years now. After a few low-key releases they unleashed their debut Tiger My Friend on cult label Arable before graduating to Domino to release their second long player The Only Thing I Ever Wanted. This was the album that caused all the fun and games : its blend of homemade electronics, meticulously scored elastic bands and heartfelt pop struck a chord with all who heard it because it was life changing in the most marvellous and thrilling way. But when your musical dreams are being fulfilled, when you tour the world, when you can give up your job and hear your music trickling out of cinemas or the telly it can be pretty strange.
This all happened to Psapp.
With everything the pair turn their hand to, they never quite know when to stop. So when joyous hysteria and an unending party resulted in equally huge comedowns they were left exhausted, confused and a little broken by it all. Slowly though, Galia and Carim returned to what they knew was true and magic, and away from the dizziness of life they retreated to their studio to start making sense of all that had happened. The result is their most starkly beautiful album to date -The Camel`s Back.
In it you will find an array of monsters, ants and heartbreak, philosophy and folly all wrapped up in glorious production, odd noises and a heightened sense of purpose. There is a real sense of triumph over adversity and whisper itmaturity about proceedings. Album opener `I Want That` showcases this development, bursting with enthusiasm and brassy squawks while `The Monster Song` is a hugely catchy pop number, life affirming and vast - if Psapp was a Sunday afternoon film this would be the moment when the sun came out and everyone danced in glorious Technicolor. But try listening to `Screws` or title track `The Camel's Back` without getting swept up in an intimacy that is almost claustrophobic in its honesty. The band has a song called `Somewhere There Is A Record Of Our Actions`. This sentiment may be true, but it is doubtful that all of them would be as beautiful and insightful as the one left by Psapp.
---
---
Kieran Hebden & Steve Reid : "NYC" : CD/LP : (domino // indigo) : VÖ 14. november
label/vertrieb:
http://www.dominorecordco.com/uk/albums/17-10-08/nyc/
http://www.dominorecordco.com/artists/kieran-hebden-and-steve-reid/
http://www.indigo.de/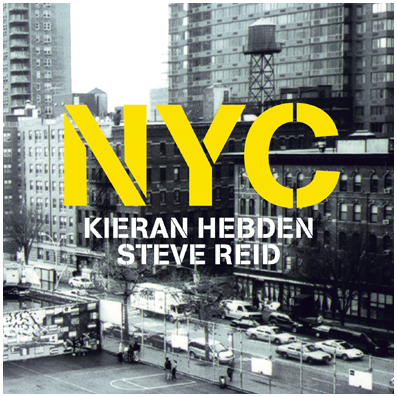 ---
[review:] Grandioses Album der beiden ungleichen Protagonisten
Steve Reid und Kieran Hebden
, die auf "NYC" mal mehr nach einer erfrischenden Neuauflage von CAN klingen, mal nach einer lockeren Remineszens an STEVE REICH. Klingt nicht ganz so jazzig und experimentell wie manches auf dem Vorgänger "Tongues", aber immer noch nach spontaner Interaktion mit eingänglichen fast meditativen Elementen. Klasse.
- großmutter futziwolf
---
presse:
>>> Mit Franz Ferdinand haben Domino gutes Geld verdient, aber der Liebling der Chefetage muss nach wie vor Kieran Hebden sein, denn der darf dort Breschen ins Dickicht der Avantgarde brechen, und Wege freilegen, die die Avatgrade bisher selbst übersehen hat. Als Fourtet lässt er Maurico Kagel bouncen, als Remixer spielt er den Sophisticator für Madlib oder Radiohead, und mit dem Detroiter Jazzvertranen Steve Reid spielt er live und im Studio mitreissende, schwierige, weit jenseits von eins zwei drei vier groovende Kreuzungen aus Drumbattle, Gamelan und Laptop-Nerdism. Auf "NYC" hören wir das erste mal, dass Steve Reid tatsächlich eine Art Backbeat zum Loop spielt, ein Schritt, der das ganz Album schon mal zum zugänglichsten der ganzen Serie macht. Ansonsten irritierende, flirrende, intuitive Interaktion auf hohem klangmanipulativen Niveau. <<<
artist website:
http://www.steve-reid.com/
http://www.kieranhebdenandstevereid.com/
http://www.fourtet.net/site/index.html
http://www.myspace.com/fourtetkieranhebden
contact:
info@dominorecordco.com
bookingcontact:
booking@windishagency.com
mukke:
http://www.myspace.com/fourtetkieranhebden
video:
Kieran Hebden and Steve Reid - `Brain`
YouTube-Direktlink
bio:
Steve Reid made his recording debut in 1964, aged 19, playing on Martha and the Vandella`s `Dancing in the Street`. He went on to play with legendary figures in avant garde jazz such as Miles Davis, Archie Shepp, Sam Rivers and David Murray, but also in soul, such as James Brown, Dionne Warwick and Chaka Khan. In the late 60s he spent three years in west Africa, where he studied African rhythms and played with Fela Kuti.
Kieran Hebden developed Four Tet`s sample-based collage of jazz, folk and soul textures in downtime between recording with Fridge, the band he started with school friends Adem Ilhan and Sam Jeffers. After Dialogue was released by Output, Kieran went on to produce Pause, Rounds and Everything Ecstatic for Domino.
The collaboration came about through a mutual friend, Antoine at Paris Jazz Corner. Kieran was keen to revisit the kind of intense dialogues to be found in 70s free jazz duos; Steve liked Four Tet and wanted to engage with modern electronic textures, something he felt had not yet been done well in jazz. The result was a show in Paris, one in London, and then straight after, the Exchange Sessions.
---
---
"SLEEPWALK" a Selection by OPTIMO (Varrious Artists) : CD//digital : (domino // indigo)
VÖ 07.11.2008
label/vertrieb:
http://www.dominorecordco.com/uk/albums/09-09-08/optimo--sleepwalk/
http://www.indigo.de/
tracklist:
· 01. Chris Watson - No Man`s Land (Extract)
· 02. Nurse With Wound - Funeral Music For Perez Prado
· 03. Coil - A Cold Cell In Bangkok (exclusive mix by Peter Christopherson)
· 04. Tuxedomoon - In A Manner Of Speaking
· 05. Eden Ahbez - La Mer
· 06. Raymond Scott - Sleepy Time
· 07. Cluster - Sowiesoso
· 08. Eno, Moebius and Roedelius - Broken Head
· 09. Arthur Russell - This Is How We Walk On The Moon
· 10. Damon - Don`t You Feel Me?
· 11. Karen Dalton - Something On Your Mind
· 12. Duke Ellington - Moonbow
· 13. Future Pilot AKA - Terry Bina
· 14. Mulatu Astatke - Yègellé Tezeta
· 15. Nitty Gritty Dirt Band - Nashville Blues
· 16. Lee Hazlewood - Whole Lotta Shakin' Going On
· 17. Wall Of Voodoo - Ring Of Fire
· 18. Chris And Cosey - Sweet Surprise
· 19. The Lady Vanishes - Sleepwalk
---
---