Dienstag, 25. Januar 2022 um 06:05 - futziwolf
Zydepunks - "Exile Waltz" CD
LABEL:
http://www.ninemilerecords.com/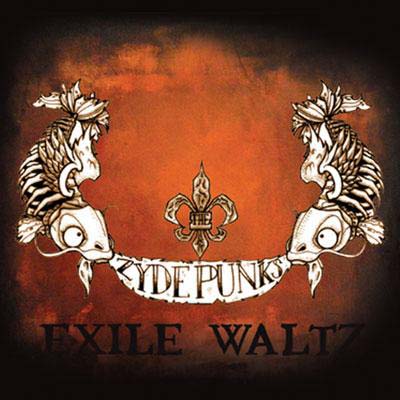 Hier bietet sich doch mal was Interessantes: Die Zyde Punks machen Punk, der mit Violine und Akkordeon gespielt wird statt mit E - Gitarre.
Musik die zum Apfelwein saufen und Nächte durchtanzen anregt. Mal ruhig und vielleicht ab und zu etwas schwermütig, mal schwungvoll und schnell, mal mit schönem, rauem Gesang (Französisch und Englisch)und mal Instrumental.
Abwechslung wird Groß geschrieben und ich persönlich habe dieses schöne, melancholische Folk-Gefühl, das ich zuletzt bei Joe Strummer und seinen Mescaleros hatte (ohne diese Grösse zu erreichen natürlich, will mich ja nicht versündigen *hüstel*), und das ist eine der größten Auszeichnungen die ich verleihen kann.
Im Booklet grüsst man auch die einzig genialere existente Band dieser abgedrehten, innovativen Spielart von Punk gemixt mit World Music, nämlich The World/Inferno Firendship Society. Passt irgendwie. Ganz ganz tolle Platte, unbedingt anhören!!! :
mink
mukke:
http://www.sonicbids.com/epk/epk.asp?epk_id=40742&poll_id=&name=music&skin_id=3
presse/bio:
"World music never sounded like so much frantic, frenetic and sweat-soaked fun." Hal Horowitz, Creative Loafing Atlanta
"The Zydepunks are one of New Orleans` most rousing live performers... they surprise with sublime accordion-fiddle fueled playing." Offbeat Magazine
Innovators, renegades, survivors - within a few years, the Zydepunks have grown from underground heroes into one of New Orleans` most talked about bands. Yiddish riddles, Irish ballads, Cajun punk, and original songs in Spanish and German are a small demonstration of why they astound new audiences. Wild folk dances fronted by accordion and fiddle and backed by relentless drums and bass are a testament to the high-energy folk-punk dance craze that is a Zydepunks show.
The Zydepunks began in 2004 and quickly took the New Orleans music scene by storm with their speedy and amped-up versions of European and Louisiana folk music. Vocal stylings in six languages (German, French, Spanish, Yiddish, English, Portuguese) immediately set the band apart. Their own original work has given the band a more cohesive feel while staying true to their sound.
Sadly, no story about any contemporary New Orleans band is complete without mentioning the hurricane season of 2005. What was looking to be a breakout year for five young musicians coming off a national tour turned into a matter of pure survival. Three founding members ended up returning to New Orleans to houses that were miraculously untouched but a city that was forever mangled. With their lineup and future in doubt, the band managed to reunite for a performance at the New Orleans Voodoo Music Festival. A memorable nighttime show at the legendary Café Brazil gave notice that the old New Orleans might come back after all.
The Zydepunks recently released their highly-anticipated third album "Exile Waltz" (Nine Mile Records) in August 2007 and are currently in the studios working on a 2009 release. They are thrilled to be going on their debut European tour in October, with more American and Old World dates being announced for 2008.
Instrumentation
Denise Bonis: fiddle, vocals
Eve: accordion, melodica
Juan Kuffner: accordion, fiddle, vocals
Joseph Lilly: drums, vocals
Scott Potts: bass, vocals
artist website:
http://www.zydepunks.com/
http://www.myspace.com/zydepunks
http://www.sonicbids.com/epk/epk.asp?epk_id=40742
discographie:
"Exile Waltz", 2007
"...and the streets will flow with whiskey", 2005
"9th Ward Ramblers", 2004
---