Dienstag, 17. August 2010 um 03:43 - futziwolf

ELIZA JAYE & THE TARTS - "Black Heart Rum EP"EP-CD
(RED GUM RECORDS) VÖ: 19.07.2010
label/vertrieb:
red gum records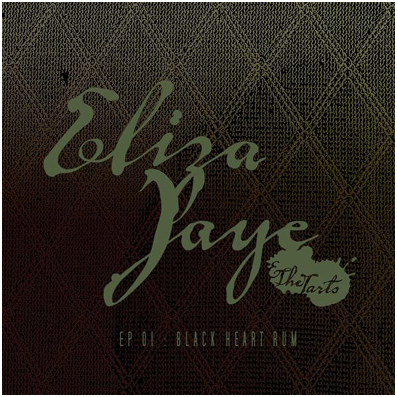 [review:]
Eliza Jaye and the Tarts
ist eine dieser Bands von der man hier warscheinlich nie etwas gehört hätte, wenn man nicht regelmäßig wahllos in allen möglichen Foren und in myspace nach neuen Bands suchen würde. Den deutschen Labeln und Promotern ist bis heute jedenfalls mal wieder eine Perle der australischen PostPunkFolk Szene entgangen.
Eliza Jaye's
Irish Folk- und 80er IndieRock orientierte und wunderbar melancholische Songs werden von ihrer Schwester
Anna McInerney
auf der Violine, dem Bass von
Dean Van Jones
und einem Schlagzeuger Namens
Rob
unterstützt. Die Stimme und Art des Gesangs von Eliza Jaye klingen ein wenig an
Kristin Hersh
. So erinnert auch das Titelgebende
"Black Heart Rum"
an PostPunk Zeiten der Throwing Muses.
Sehr schön auch das langsamere, bluesige
"Crimson Lipstick"
.
Die EP
"Black Heart Rum"
präsentiert vier Songs und das Ganze kommt in bester D.I.Y. Manier auf ihrem eigenen Label REDGUM RECORDS heraus, Ende 2010 wird das Debutalbum folgen. Wir sind gespannt. -
großmutter futziwolf

presse:
>>> I kind of like obscurities and have a well known fondness for offbeat female singers. Whilst offbeat is too strong a term for Eliza Jaye and the Tarts (and they certainly don't deserve obscurity either) there was something that felt conventional or perhaps, more accurately, comfortable about this four track EP. Maybe it is the relocation from Australia - from whence Ms Jaye hails - to our green and pleasant land that causes the absorption of musical influences.
Make no mistake, these songs aren't derivative. They do, however, echo many other female singers at the classy end of the market which is probably deliberate. Cleverly using the violin of Anna McInerney to paint a sonic picture of the underlying emotions nicely counterpoints the laconic, even sardonic vocals of Ms Jaye with this approach working especially well on "Crimson Lipstick". Further on down that same road, "October" overflows with the kind of atmospheric nonchalance that I'd happily compare with the work of My favourite Tucson songstress Cathy Rivers (there I go with the obscure references…) before the post punk goes gypsy charms of "Black Heart Rum" spin us out of this EP.
So what conclusion is to be drawn from my ramblings about this EP? Is it a cunningly constructed attempt at mainstream success via the bedroom window using the tricks and tools of the trade? Perhaps, but Eliza Jaye and the Tarts are an eminently listenable band that interest and intrigue your ears and, while I'm not sure that I "got" the songs on this album, I know what I like and I liked this EP. Now that I think about it, it is the same kind of effect that Shelby Lynne has on me and she has done OK. I reckon Eliza Jaye and the Tarts will do just fine as well. <<<
bluesbunny.com

artist website:
http://www.myspace.com/elizajayeandthetarts
http://elizajayeandthetarts.wordpress.com/
http://www.myspace.com/elizajaye
http://www.myspace.com/50639994
ELIZA JAYE & THE TARTS sind:

Eliza Jaye - Guitar & Vox
Anna McInerney - Violin & Vox
Dean Van Jones - Fretless
Rob - Kit
mukke:
http://www.myspace.com/elizajayeandthetarts
tourdaten:
04. Sep 2010 - 20:00 - The Station - Brighton, East Sussex, UNITED KINGDOM
02. Oct 2010 - 20:00 - Jam - Brighton, Sussex, UNITED KINGDOM
contact/booking:

katie.jones@redgumrecords.net
video:
YouTube-Direktlink

About Eliza Jaye & The Tarts
:
In Australia, the bushland has an iconic status. It is a landscape of dry red soil and sparse vegetation under a canopy of eucalyptus trees. Its mangrove swamps, vast deserts and curiously beautiful creatures were worshipped by the peoples of The Dreamtime. The colonials cursed it for its unrelenting heat and barren soil and it in turn brutalised and broke them against its ancient endurance. This landscape with its beauty and its terror, its unique and magic identity, is the setting for Eliza Jaye's brand new EP 'Black Heart Rum'. Eliza's arrangements fuse with emotive lyrics from exuberance and anger to heartbreaking melancholy as she delves into the imagery of her roots, bringing the works of great Australian poets and storytellers to touch upon her folk, blues and rock sound.
Eliza grew up in suburban Sydney and was trained alongside her sister Anna in classical violin. Their repertoire soon grew to include Australian bush songs and Irish folk tunes followed by rock, pop & anything they could get their hands on. 'My home town has only one road in and one road out' Eliza explains. 'There wasn't much to do except explore the bush and listen to the radio. I would lay about in the heat consuming the top forty & dreaming of escape.' As a teenager Eliza discovered that she possessed a unique voice, she moved on to guitar and began writing songs.
After leaving her degree in classical singing early, Eliza moved to Sydney city and cut her teeth on its singer songwriter scene. Her sense of individuality, along with her lyrical appeal and capacity for vocal delivery helped her to develop a devoted following. 'When I'm writing I feel simultaneously conscious and dreamy. Its like deep sea fishing, I'm always searching for the big fish to grab on to and pull up to the surface.' Her lyrics describe her experiences and fantasies including love, lust, the futility of greed and the human condition.
Eliza Jaye and The Tarts is a four-piece band featuring Eliza's sister & former
Bat For Lashes
violinist Anna McInerney. Eliza wrote all of the tracks on the EP with Anna in mind as lead instrumentalist. 'I love playing with Anna' Eliza states 'the violin has such a beautiful texture & is so versatile. Anna and I have a sort of musical telepathy and she understands my vision because she has been there the whole way!'
'Black Heart Rum' was recorded on a farm studio in Sussex. The D.I.Y aesthetic employed by Eliza Jaye and co-producer, engineer and bass player Dean Van Jones ensures a raw and rustic feel to the recordings. "We used vintage valve amps when recording the album" Eliza says "Listen to the track Crimson Lipstick and you can hear the beautiful tremolo of a Vox ac10 twin guitar amp, it's my new baby. The drums were miked up in a huge corrugated iron shed next to the live room and we recorded the vocals and violin in Dean's little farmhouse cottage." Eliza Jaye and The Tarts are currently recording their debut album, which will be released later in 2010.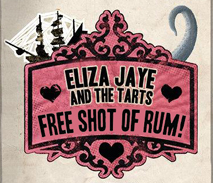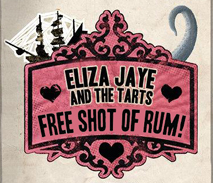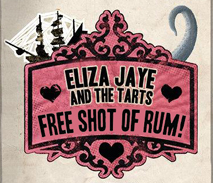 Interview:
YouTube-Direktlink